Performance characteristics of asphalt mixing plant
Brief introduction of performance characteristics of Haomei LB series modular
asphalt mixing plant
: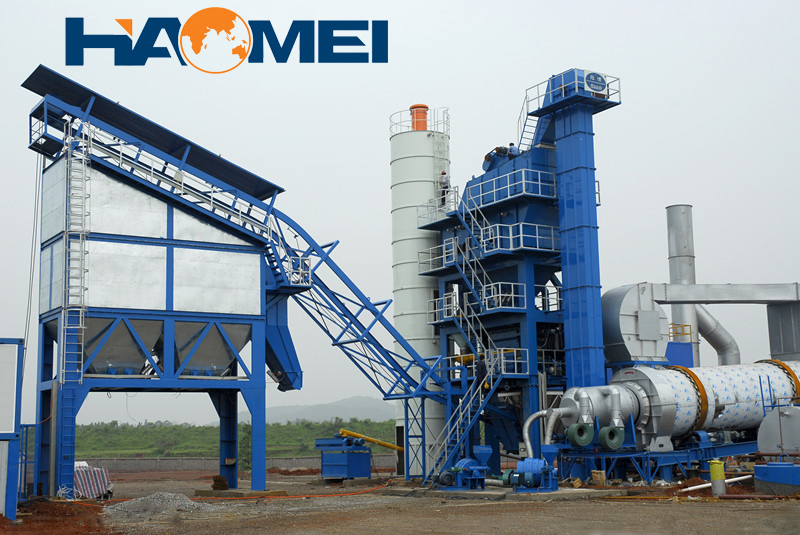 1, The asphalt mixing plant adopt entire pure modular design, the transportation, installation are fast and convenient, large scrape material, flash material separation, the structure is unique and useful.
2, The distributor ring belt feeder, frequency speed control, adjustable height, unique structure is easy to replace the belt, so that feeding will be more smoothly, reducing the power consumption. And with no material alarm lights to facilitate the customer.
3, With efficient insulation drying drum, special leaves and curtains form make heat exchange more fully, coupled with efficient energy-saving imported burner, dual-use diesel, saving energy consumption.
4, The vibrating screen with vibrator external linear closed structure, high screening efficiency, easy to maintain and replace the screen, qualified bearing is more reliable.
5, The thermal aggregate storage equipped with a continuous level device, the operator can be at a glance. And aggregate measurement using the size of the door second measurement, greatly improving the measurement accuracy. Special structure of the material door, not easy to stuck the material, work more reliable.
6, The mixer use European technology design, double-speed-reduce motor, high-speed synchronization. The asphalt material after weighing, pump directly into the mix pot, powder sprinkled into the mixing pan by the spiral, so that mixing more evenly and quickly. There are wood fiber to add the interface and the old material recycling entrance.
7, Dust removal system using imported Nomex bag, so that the concentration of dust to the atmosphere less than 50mg / Nm3, fully meet the national environmental requirements. The dust powder down into the recovery powder tank, re-use to avoid the secondary pollution.
8, The control system using industrial automation leading SIEMENS overall solution, use PROFIBUS field bus to form a large-scale distributed automation system, in the mode of operation, use dual-industrial computer hot backup, dynamic display, no buttons but mouse to complete a variety of operations, real-time fault monitoring and control, with parameter settings, data management, fault diagnosis and other functions. Accurate measurement, can achieve automatic, semi-manual and manual control, stable and reliable performance.
Inquiry
(Please write down the product model or any requirement)
E-mail:
Message:
 
Contact Information
E-mail:nydia@concretebatchplant24.com‍
Tel: +86-371-65621392
Fax:+86-371-86616825
Add : No.14 Waihuan Road,New strict,Zhengzhou,China